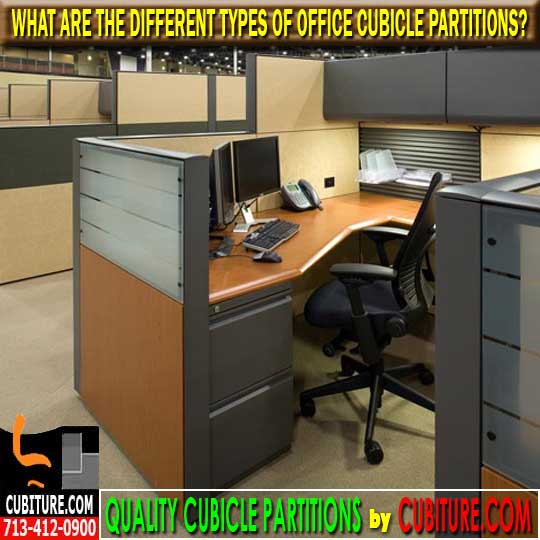 Cubiture manufacturers office cubicle partitions that come in a wide variety of designs, sizes, and materials.  These options allow our space planning teams to fully accommodate the broad spectrum of work space design considerations found in Houston's rapidly diversifying marketplace.
Panel-mounted office cubicle partitions create work areas with walls that attach directly onto a wide variety of work surfaces. Sometimes these units boast built-in power strips, which help to eliminate cluttered cords in the cubicle quarters.
Freestanding cubicle partitions, unlike panel mounted, do not attach to anything. These systems generally require less physical manipulation when setting up or rearranging. However, they do not provide as much privacy as other designs.
Acoustic partitions incorporate sound muffling materials to minimize noise in office cubicles. These types of partitions come in either freestanding or panel-mounted units.  Acoustic office cubicle partitions offer many of the same features as other designs, and easily customize to suit any need.
Smooth surface office cubicle partitions prove easier to maintain than acoustic panels. They also offer a more modern look than some other models.  These partitions commonly utilize such materials as plastic, vinyl/PVC, laminate, stainless steel, or dry-erase for their surfaces.
Glass or Plexiglas office cubicle partitions provide companies with opportunities to keep the open office feel while still maintaining personal space for employees. While these partitions allow for the flow of natural light into work areas, they unfortunately do not provide very much privacy.
To adjust to the privacy needs of many different individuals, office cubicle partitions vary in heights ranging from 34 to 85 inches. Panel mounted partitions tend to come in sizes of 6'x6', 6'x8', and as 8'x8'.
Which style is best for you?  With so many options to choose from, there is no doubt that Cubiture offers a style of cubicle partitions that will accommodate all of your needs and desires.