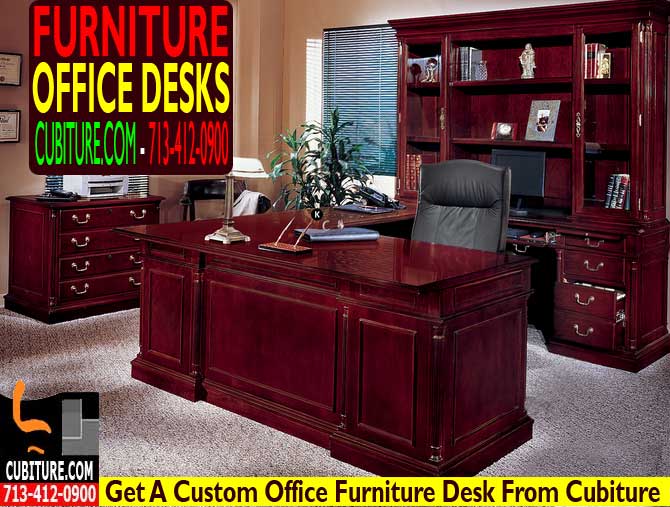 Affordable Custom Office Furniture Desks
Shopping online for office desks can be a difficult process. Brand new, name brand office desks may not be in your budget; and used desks may not be in a suitable condition to meet your needs. While there are a myriad of choices in both, only a few will fit your very specific functional needs and design requirements. The process of finding exactly what you need and want can be so time-consuming that you can actually begin to lose money in the search.
Let Cubiture save you time and money by building custom office furniture desks that are tailored to meet the needs of your leadership team. Our staff will guide you through the entire customization process and produce a finished set of affordable, functional, and highly attractive products.  We can modify any office desk you find in our gallery with features uniquely personalized to your business requirements.
Consider the following questions while you browse our selection:
Do you need storage space or extra space for paperwork?


If so, we can build additional filing and storage units into your desking system.

Do you need to use two monitors with your computer?
If so, we can create additional work surface areas that will allow you to arrange your displays where you can comfortably see both without straining your neck.
Would you like to accommodate extra devices like a tablet, smart phone, docking station or a laptop?


If so, we can add trays that can be pulled out to support these devices when you need to use them.

Do you want to make full use of your wall space?


If so, we can build a desking system that wraps around 3 walls of your office, incorporating all the features above into one ergonomic, accessible, and comfortable work area.
Once you have a few ideas in mind, call Cubiture for a no-cost, no-obligation meeting with an office space planner. The space planner will look at your workload, your physical space, and your available budget. Once your design is finalized, our manufacturing team will build your custom desks and install them in your office upon completion.
We have a fully staffed, 25,000 square foot manufacturing facility that can produce any design/build configuration you request.  With a complete selection of wood veneers, and over 500 choices in laminates, we can keep your order well within budget tolerance by building your custom office furniture desks from the most affordable materials that deliver the aesthetics your interior decor requires.
Call  713-412-0900 now for an attractive and affordable alternative to name brand prices– with better than name brand performance.