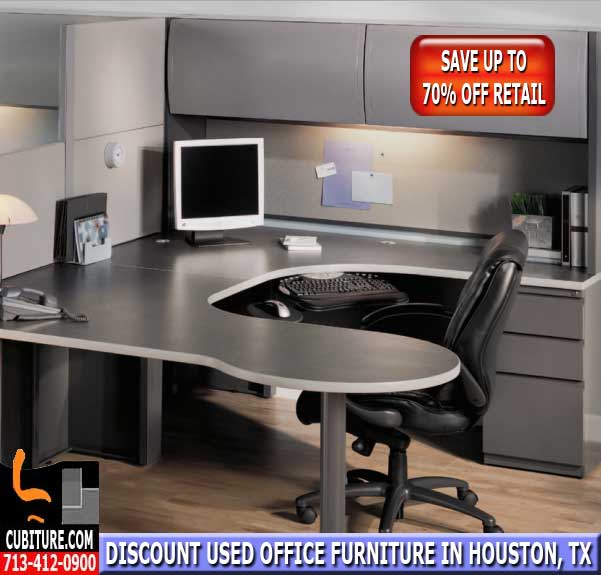 At Cubiture, we pride ourselves in providing our clients with a vast array of discount used office furniture of the highest quality possible. Not only do we offer used furniture pieces, but we are very pleased to supply our clients with a selection of new, refurbished and custom pieces. In order to experience all that Cubiture has to offer, we invite prospective customers to visit our fully stocked showroom, located at 10704 Telge Rd, Houston, TX 77095.
If your organization is the market for quality discount used office furniture, the Cubiture showroom is sure to be your one stop shop. Whether you are in the market for an entire office remodel, or you are simply looking to replace one or two worn out items, Cubiture can help you at a price that fits your procurement budget.  Not only does Cubiture offer a multitude of spectacular used office pieces, but we also refurbish and customize used office cubicles of all shapes and sizes.
Cubiture's services are not limited to discount used office furniture and cubicles. We also stock a wide variety of quality office chairs, including several ergonomic models priced far lower than competing ergonomic office seating.
When you choose to work with Cubiture, you will meet with an office design layout specialist who will guide you through the design process.  Working collaboratively with your office space planner, you can participate in the development of a stylish and functional blueprint that will tailor your discount used office furniture to your office floor plan and business process flow.
Once you have finalized your plan and signed off on the work order, we will assemble your office furniture systems for you and deliver a  complete turnkey installation to your facility. Our team is dedicated to providing you and your company with a one-of-a-kind customer experience characterized by convenience, affordability, and attentiveness to your personal needs. Contact us today.