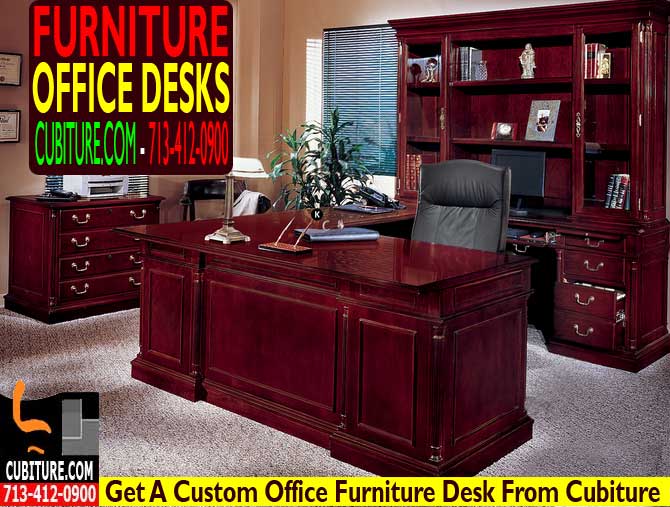 Need Help Planning Your Office Layout? Call Us For A

FREE

Quote & Drawing
713-412-0900.  

Visit Our Office Furniture Showroom Located at 10704 Telge Rd, Houston, TX 77095.
Furniture Office Desks
All desks aren't created equal, but how do you know what to look for? They come in different sizes and finishes. And while the rectangle is still common, other shapes and shape combinations also have their place. Instead of fitting the work to the desk, you can now fit the desk to the work. What a concept.
While the array of choices might be a bit overwhelming, don't let that stop you from weighing all of your options. Here's how to choose just the right desk, no matter which type of business you're in or who will ultimately use the work station.
Different Materials Give Different Looks
Glass might very well turn into a new classic, at least glass elements. And it's not just for a contemporary office. Glass segments, such as a desktop or partitions, add character to desks made of any material from contemporary to traditional. Laminates add design flexibility, and they're available in nearly any color of the rainbow plus numerous patterns. That lets you create a desk that's completely unique.
Wood and wood veneers will likely never go out of style. From blonde tones to deep mahogany, desks with a wood finish look and feel substantial. Metals are found in nearly every well-made desk. You'll see metal legs, panels and pulls, but metal is also important in fabrication elements such as fasteners and casters.
Desk Styles Have Really Evolved
You'll find an array of desk styles at Cubiture. A rectangular shape is one of the most common, and it's available in compact sizes and those that feature prominently in the office. Adjustable desks are a new trend. They let you sit or stand, and adjust the desk height for the most comfortable posture. L-shaped desks give you more room, which is great for switching between different tasks.
The next larger style is a U-shaped desk. This gives you expansive desktop real estate, with the desk chair conveniently centered among all three sides. Modular desks are the most flexible. They help create small, efficient work stations, but they also let you build on to create a generous, well-appointed work space. Modular systems can have large or small partitions, one or more connecting desktops, and lots of add-ons, such as filing cabinets and shelving.
Durable Fabrication Lasts for Years
Any desk can look great before being put into use. It's the fabrication that determines whether it will hold up. Seams and edges should be smooth and well-aligned. Imperfect lines are prone to chips and separations from the underlayment. Drawers need an easy gliding mechanism, which comes from well-made tracks. If a drawer sticks in the showroom, chances are it will stick in your office.
A desk should also feel sound and solid, even if it's made of glass and metal. The last thing you want is a sleek, modern desk that feels fragile. Of course a wobble means something isn't right, so you'll want to check the desk legs or feet to determine whether they're adjustable. Many are.
Office Desks Come in Several Price Points
The range in Office Desk price points is anything but small. Where some perfectly serviceable and attractive desks might cost a few hundred dollars, some executive desks can easily cost $1,000 or more. It depends on a lot of factors, including the materials, size, and construction. Package deals can help you get more for your money.
Laminates usually cost less than other materials, but that doesn't mean they're subpar. In fact, they look great, clean up easily, and resist scratches and other damage. Glass often costs more, especially tempered glass that's tough and designed to crumble instead of break into shards if the worst were to happen. A wood or wood veneer desk ranks high, sometimes highest, on the pricing scale. But while it's beautiful, extra care is required to keep it looking great.
A lot of different elements go into a great office, but few of them get more use than desks. They're where most of the work happens, so they're one of the most investments you'll make.
Cubiture has a wide range of new, used and refurbished office desks. And if you see something you like but want it slightly different, custom millwork makes that possible. Call us today at 713-412-0900 for a free quote, or stop by our showroom at 10704 Telge Rd, Houston, TX 77095. Let our experts show you possibilities that you probably didn't know existed.