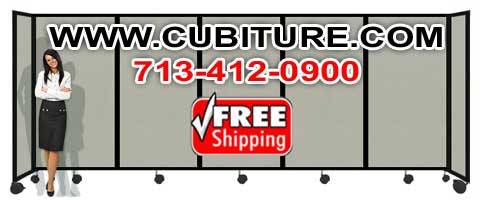 Cubicles are typically no small investment. So it only makes sense to save as much as you can, when you can, to help keep the budget intact. Used office cubicles are a great way to do that, and you might find exactly what you're looking for. If not, you could even create it and still get the benefit of used.
Here's how:
Used Office Cubicles Aren't Necessarily Damaged
The idea of a used cubicle might make you think of a scratch and dent special where nothing matches, some parts don't function like they should, and you're generally un-thrilled with the whole investment. A used cubicle that you envision might serve a function, but that's about the extent of it. Thank goodness that's not really the case.
It's true that some used office furniture has seen better days. But just as often, an office trades in or sells cubicles in order to upgrade to something different. Or maybe an office is going out of business. There are lots of reasons why Cubiture obtains used cubicles, and lots of choices for you to consider.
You've Got Lots of Choices with Used Cubicles
Think the only way to get everything that you want is with new cubicles? Think again. New, in-stock models are as-is, just as much as some used styles. The main difference is that with used, you can afford to customize in nearly any way that you can imagine.
Refurbishing gives you untold options for creating exactly what you want. At Cubiture, we have hundreds of different upholstery fabrics and nearly as many laminate choices, too. Choose what you like, and we can transform used cubicles into something that looks new and feels new, but doesn't have the costs associated with new furniture.
We Can Create Custom Features
With used cubicles, you also have the choice of custom add-ons that work for your business. Sometimes you may imagine a feature that doesn't exist, at least not yet. Maybe you need a special kind of storage or want a desktop that's shaped a certain way. When you work with our in-house designers, we can take that vision and make it a reality.
We can also show you how different arrangements in your office can create workstation configurations that you hadn't thought about. Want to try out clustered areas for creative workers? You don't need new cubicles for that. Used cubicles are flexible too, especially after we've customized them.
Used cubicles are the right choice for any office. There's really no reason not to consider them, especially once you realize that refurbishing gives you virtually limitless possibilities. Cubiture is your source for used office cubicles in Houston. We always have plenty in stock if all you need are basic partitions to get a business off the ground. And if you're interested in something more, we can help you design something really special.
Call us today at 713-412-0900 for a free quote. You've got nothing to lose, and a lot of money to save by considering used cubicles for your office.