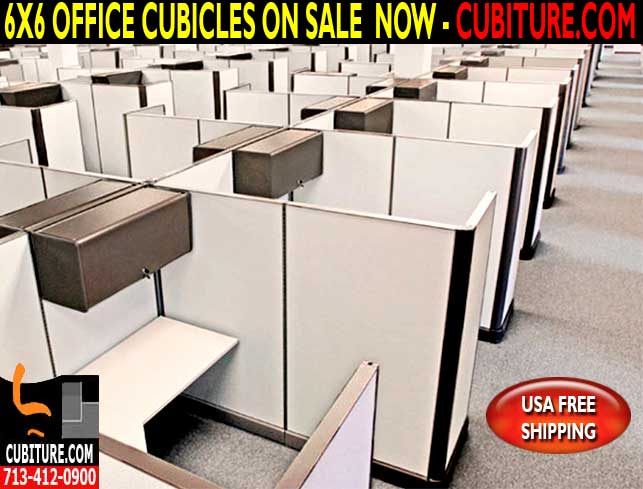 So you're looking for 6×6 cubicles. That shouldn't be too difficult, right? Problem is, you're not the only one interested in these dimensions. They're one of the most common cubicle sizes available. And because they're in demand, sometimes it's difficult to find them with the features that you want and need.
Fortunately, you have Cubiture. It's not that our 6×6 cubicles are in less demand. It's that we have more, and get more regularly. If you're going to find them, our showroom is the best place to start.
Here's what you can expect to find from most of the 6×6 cubicles on the market and in our stock:
Efficient Use of Space
One of the biggest reasons the 6×6 cubicle is so popular is that it's just the right size to allow plenty of room to work, but it doesn't have an overly large footprint. When space is critical, a smaller cubicle is important. But if it's too small, the worker using it will feel cramped, and probably won't have enough space to move around naturally.
Just Enough Room for Storage
Most 6×6 cubicles that we stock have optional components that let you customize to suit the needs of your business. You can have wall-mount shelves and files, and enough room under the desk for a small cabinet. If you'd prefer to leave more legroom underneath, a cubicle this size also has enough space to allow a short or tall floor standing cabinet against a partition wall. With the right desktop, you can even have taller wall storage with cabinets and drawers that begin at the desk and rises to the top of the partition.
Plenty of Desktop Options
A 6×6 cubicle isn't as small as it might seem. There's more than enough room for a standard rectangular desktop that fits wall-to-tall, but that's not your only option. You can also have an L- or U-shaped desk, or one that's semicircular. And there's also the option of an add-on peninsula that extend the desktop. Your desks may be supported by the partitions, but they can also rest atop filing cabinets.
Custom Partition Features
Cubicle partitions come in a lot of different materials. Many are upholstered with fabric, which acts as a sound buffer that helps minimize work distractions. Data and electrical ports are another popular feature. With outlets and ports built into the partition just above desktop level, there's no more jungle of cords and wires on and underneath the desk. Something else to think about is glass. Many partitions are segmented into panels. Replace a few upholstered panels with glass, and you've got a brighter cubicle that looks modern, too.
The common 6×6 cubicle is common for a reason. This is one of the most popular sizes because it doesn't take a lot of space but still leaves the user with plenty of room to work without feeling cramped.
At Cubiture, we have a wide range of new and used 6×6 cubicles. Chances are, if that's what you're looking for, you can find it here. We can even refresh used cubicles to make them look and work just like new again.
Give us a call today for a free quote at 713-412-0900. And if you're in the neighborhood, stop by and see our selection in person. We're located at 10704 Telge Rd, Houston, TX 77095.