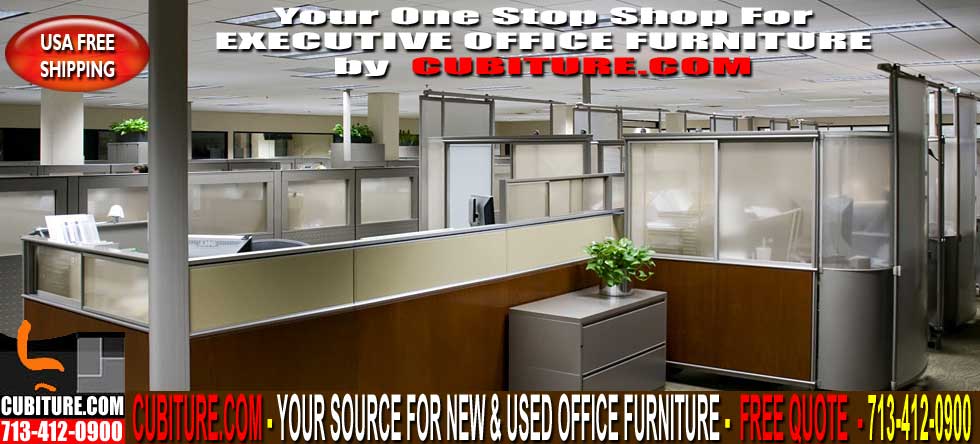 Administrative Office Furniture For Sale
Now that you have finished purchasing administrative office furniture for your workers, it's time to turn your attention to your executives. Look at what they are using now. Does their current furniture meet their needs? Have your managers spoken to you about what features and performance they need from their desks, chairs, filing cabinets, hutches or credenzas? If not, it's time for you to identify what their furniture needs are so you can begin researching what's available.
What are Your Needs?
Adjustable office chairs with good lumbar support are a necessity, not a luxury. Sturdy furniture that stands up to hours of use, several days a week. Filing cabinets with drawers that work after a few years of use. Hutches and credenzas that actually hold the notebooks, binders, manuals and trade books that your managers rely on every day.
Even if these features are contained in simpler pieces of furniture, your managers will be happier and much more able to attend to their daily duties. Look at the features of the chairs.When you and they aren't changing position, trying to ease that back pain that always seems to develop around mid-afternoon, productivity will increase. When you pay closer attention to the features in other pieces of furniture, it may be easy to see your executives responding in a positive way.
Don't Forget About Comfort
Looking at the chairs, you need adjustability and lumbar support. Desks should also fit each manager. If you order every desk to be the same size, your bigger managers may feel constricted. Your smaller managers may feel lost with all that real estate they are sitting behind. For this reason, you should take your management team with you as you scout out new executive furniture. Have them try each desk you're considering for size and comfort. Then order the ones that fit them.
ADA Information On Occupational Ergonomic Office Furniture
Look at Your Office Layout
Do you house every employee, management included, in workstations? Are some of these stations enclosed offices? Or do you have separate walled offices for every member of your management team? Your office layout will dictate what kind of executive office furniture you choose.
For a layout that has been created with workstations, you're going to have to remember that size is everything – if you order the largest desks or credenzas, you'll crowd your managers out of their cubicles. Go small. You'll still have the room you need for storing documents and manuals. If your cubicles have overhead storage bins, these can hold office supplies, trade books, manuals and notebooks.
Use Your Layout to Create The Environment that Works for You
Now that you know how your office layout will affect the environment you want to create, it's time to start looking for the furniture that fits what you're striving for.
If everyone, including your managers, occupies a cubicle, will wood desks fit? Or would you be better able to create the look you're seeking by choosing chrome-and-glass desks? As you weigh options, contact our office furniture experts at Cubiture. They will help you to make the best decisions for your company. Browse our office furniture so you'll be ready to order when you know what you want.
USA FREE SHIPPING!


Call Us For A FREE

 Administrative Office Furniture 

Quote 713-412-0900
Visit Our Office Furniture Showroom Located at 10704 Telge Rd, Houston, TX 77095.