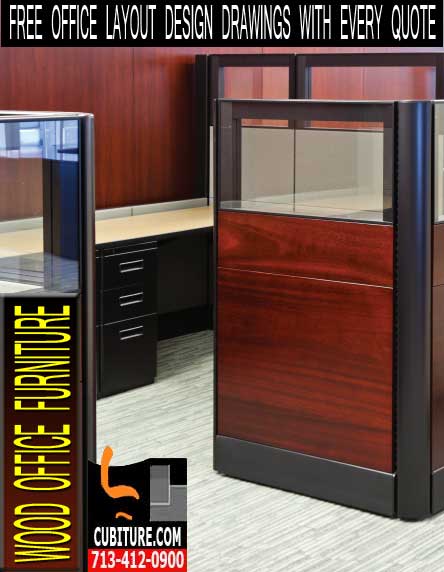 Wood Office Cubicles
Wood office cubicles made mainly from wood do look different from those you generally see. Depending on the kinds of wood used and how the wood has been used, these wooden cubicles grab your attention with their attractive looks. They may also be pricier, so you're going to have to find those that fit your budget.
Functionality First
Look for functionality in the wood office cubicles you're examining. Talk to the furniture experts at Cubiture and ask about how they are assembled once they have been brought into your office. You want fully assembled cubicles that are going to stay standing when someone leans against a wall. You also want wooden cubicles that have the storage your employees need. What about sufficient electrical outlets for computers, tablets and phones?
Look at what each worker does in their job functions. Whether they make hundreds of phone calls a day, produce legal documents or write technical manuals, they all need to have the proper functionalities in their cubicles so they can perform their job duties.
Create Pods of Cubicles for Different Groups
You try to make sure that different departments can work together as efficiently as possible. Therefore, rather than situating one Payroll worker here, then placing two in the opposite corner, you have assigned cubicles so that all Payroll and HR employees are close together.
You've done the same for IT, web design, graphic design and any other departments you have in your business. Using wooden office cubicles, you'll be able to achieve this goal. Just alert our staff members of your plans to have every department placed together and we'll make sure to arrange the pods you need.
New Cubicles Should Fit Your Office Culture
Looking through the catalogs, you've seen some eye-catching wooden cubicles and you're interested in looking more closely at some of them. There's only one catch. You and your company officers have painstakingly created an office culture that works for you.
Whether your office culture lies more in cubicles set up side-by-side or in open cubicles that are arranged in a zig-zag pattern is up to you. All you want to know is that, when you order your new cubicles, they fit the culture you have created.
You can even order open office desk systems that have glass partitions between the two facing desks. These have the desk space and storage space your employees will need.
Stick to a Budget
You'll pay a little more for wooden cubicles for your staff. After considering everything, such as functionality, the fit with your office culture and the ability to create separate departmental pods, you need to look at the cost of each cubicle, both separately and in bulk.
Talk to one of our office furniture experts here at Cubiture. Since you're working within a budget, you want to find the right cubicles that fit within your budget. You're going to be shown a range of wooden cubicles. Look at each, then decide which will best fill your business needs. Browse our cubicles and get an idea of what you're looking for.
USA FREE SHIPPING!


Call Us For A FREE 

 Wood Office Cubicles 

Quote 713-412-0900.
Visit Our Office Furniture Showroom Located at 10704 Telge Rd, Houston, TX 77095.