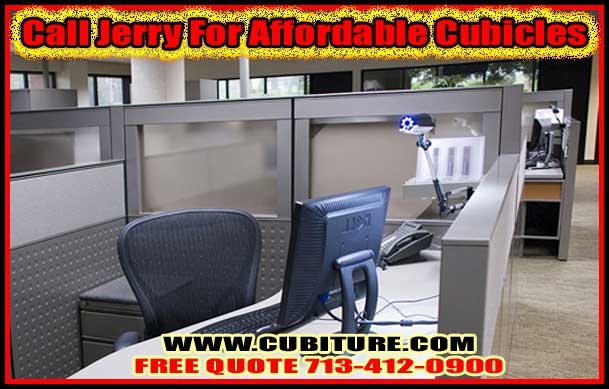 If you need affordable cubicles, call Jerry Mogyorody at Cubiture.  Jerry has been building cubicles for Houston businesses for over 20 years now.  Jerry knows how to make the most of your office space so you can grow your company without having to move repeatedly as you expand your operations.  Jerry is more than a furniture salesman.  He is actually a furniture system and cubicle manufacturer that sells directly to the business community.  With his own fleet of trucks, and with a team of expert designers and craftsman, Jerry is able to manufacture custom cubicles at a fraction of the cost of online, retail competitors.
Jerry has built a solid network of material suppliers that now supports a vast inventory of all the materials necessary to build affordable cubicles customized to unique job descriptions.  His designs are based on two fundamental principles.  The first of these is ergonomics.  It is a scientific fact that employee performance increases when people are comfortable at their stations.  Jerry's advanced knowledge of ergonomic science and seating enables him to create comfortable workstations of any size.  Jerry also builds workstations on the principle of space consolidation.  Many of his desk systems, for example, make use of corners and end walls that have been previously unoccupied.  This leaves more floor space for transit, conference areas, guest areas, and high-density storage.  Maximizing space in this fashion helps you get the highest possible return on your commercial office lease.
Jerry is also a big believer in accessorizing workstations so that employees have everything they need within easy reach.  Items such as shelving and file holders can be mounted to cubicle partitions so workers can store supplies and paperwork just inches above their desks.  Jerry can also design partitions with whiteboards when employees need to conference and collaborate at each other's workstations.  Filing systems and storage systems are standard for every workstation.  As a high-density storage expert, Jerry can build advanced storage and file systems into the most affordable cubicle systems for pennies on the dollar.
Never think that you have to sacrifice aesthetics to buy affordable cubicles.  The Cubiture factory has over 400 types of laminates and fabrics for cubicle desk and partition construction.  If you want a more classic, natural wood look, we have over 100 types of veneer that can be used to build your workstations in traditional or transitional designs.  There is no reason to look anywhere else for affordable cubicles now that you have found Cubiture.  Call Jerry today, and get started with a free office layout design and space plan.  You won't be disappointed, and you will be amazed at the return you generate from your investment in custom workstations designed with your business model in mind.
Affordable Cubicles – 

FREE Quote Call 713-412-0900