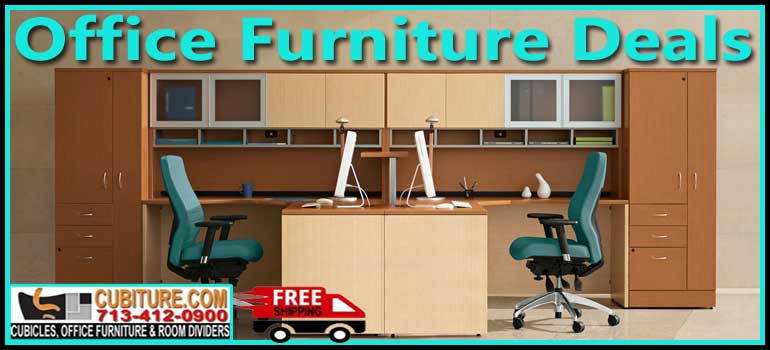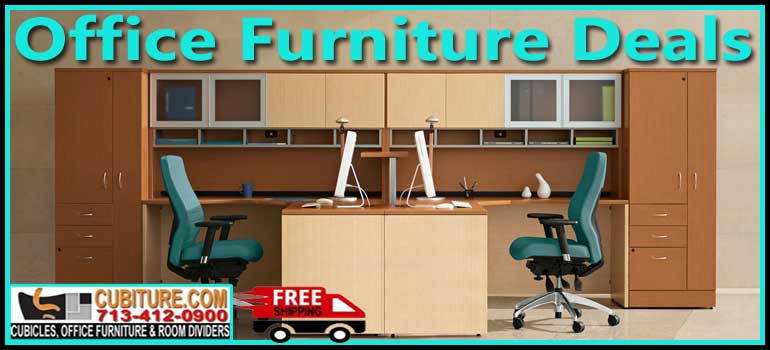 Office Furniture Deals – FREE Quote – 713-412-0900
Everyone loves a good deal, and that includes office furniture deals. Especially when you run a business, where large purchases are easily the norm, you're likely always looking for a way to spend as little money as possible, or at least make the most of what money you do spend. With Cubiture we understand that, and we offer deals of all kinds to make purchasing decisions for your business easier.
One of the first office furniture deals to take advantage of is our office planning services, which aren't just complimentary but also offered with no obligation for you to purchase any of our office furniture.
With Jerry's expert space planning know-how, we can guarantee you a plan that makes the most efficient use of your office space, so that you and your employees can focus more energy on completing daily business tasks and not struggling with cramped or uncomfortable spaces that don't respond to the company culture. We can take into account all furniture to be included in your future space planning scheme and wait for your approval before preparing your workstations.
We have wholesale office furniture deals which help to save you money when you when the size of your purchase increases. Whether this is your first major purchase of furniture as a new company or you're just looking for a much-needed makeover, buying cubicle workstations from us in bulk can shave off quite a bit in terms of price. Purchasing your cubicles factory direct allows you to avoid any extra costs due to markups you'd have to cover in the case of retail furniture.
You can find another office furniture deal in the free shipping of your bulk order to help maximize your savings. The saved money can be re-funneled into additional features you may have wanted to include in your custom-built cubicles but you didn't think you could afford. Perhaps you can replace outdated office chairs with 8-hour-rated ergonomic ones instead.
One of our most notable office furniture deals is access to low-cost and high-quality materials, especially when you choose our custom-design options. Cubiture has built a vast supply chain that yields thousands of materials covering a wide range of price points.
Anything from wood veneer and laminates to fabrics, to glass or metal, there is virtually no material that is off-limits for your cubicles of choice. We also offer free consultations, where you can call us anytime for guidance on what materials are best for your future workstations and what other office furniture deals you can expect from us.
Aside from all types of materials available for your choosing, you can also influence the form of your cubicles. Back-to-back workstations with a low separating partition allow for interaction with coworkers of a similar job description or common project. Each can include an L-shaped desk that supports overhead storage in the form of cabinets and cubby holes. You can anchor one side with full-height locker unit that contains cabinets for personal items, along with drawers for paper documents or office supplies.
Ever think to go for refurbished cubicles instead of brand-new ones? It may be a route that presents you with office furniture deals of its own, particularly when you don't actually have the time for specifying and custom-building new cubicles. If you're wanting simply to fill up your office space or call center quickly, then keep in mind that our fabrication center also doubles as a refurbishing center.
Every month highly-trained professionals take hundreds of used cubicle workstations in order to recondition them for purchase and shipment to other businesses. There are several ways that refurbished workstations can pose a better office furniture deal to you than new ones. Lower costs compared to new cubicles is the first major one, mainly due to the fact that they've already been assembled. In a case like this, fewer materials are needed to recondition areas along the surface, sand down scratches, reapply new veneer finishing, or replace the fabrics on panels.
Don't fall for the idea that used and refurbished items are somehow worse, less functional, or even less attractive. Don't think that there aren't just as many options among refurbished products as there are among our new ones. One aspect of finding good office furniture deals is knowing when you're offered considerable power of choice so that you can find something that most closely meets your individual needs just as brand-new workstations can.
Just as with our custom-built workstations, all kinds of materials are available for your choosing, and the relatively minimal labor costs mean ample savings for you. Another aspect is knowing that you're getting a product that's already been inspected for quality during the refurbishment process so that you don't have to worry about that task yourself. Additionally, because refurbished workstations are already built and ready for use with a given dimension, we can draw up an office design layout more efficiently than with custom-built counterparts.
It's not always easy to find an office furniture company that also delivers and installs your purchases with no qualms, as well as offer office moving services. Any company that does is likely a keeper, especially because of the associated office furniture deals. With our very own fleet of trucks, we get to cut out the middle man as we can easily deliver your purchase to your own doorstep, no matter where in the lower 48 states you happen to reside. Because we cut out the middle man using our own fleet, you can avoid the costs that are normally associated with delivery, which we offer for free.
Cubiture doesn't just stop at your doorstep, however. We work closely with business and building managers alike to agree on a schedule that gets us installing your workstations in a way that's least disruptive to you and your employees. As part of the many office furniture deals that you can enjoy, because we take care of every aspect of moving and installation, no one but Cubiture need to lift a finger during this process. We also mind your office environment and make sure we always fully clean up after ourselves before leaving you to your new workstations.
When you want the best office furniture deals, then look no further than Cubiture. As a distributor and a fabricator, we can order, build, refurbish, or repair cubicles that benefit your office space through functionality, beauty, and comfort. Don't forget that when you place an order with us, shipping is always free. Give Cubiture a call today.
Office Furniture Deals – FREE Quote – 713-412-0900