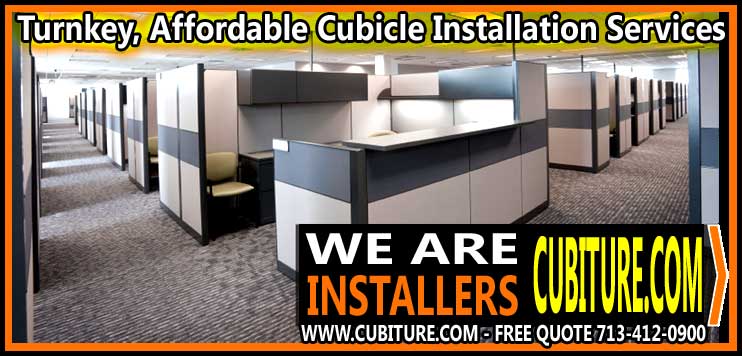 Cubiture does more than just sell and install cubicles.  Our turnkey cubicle installation entails several additional, complementary services that many other organizations charge a lot of money to perform.  Many space planners, for example, charge you a design fee if you want an office layout drawing of your new floor space.  Some even charge for a floor plan analysis.  Others will charge a fee for delivery and a separate fee for installation.
Cubiture offers complimentary floor plan assessments and office space plan diagrams.  You pay only for your physical cubicles, and you choose between a flat installation rate or a rate based on hours worked. 
We also warranty our products for parts and labor, so you get support bundled into your purchase. 
We begin with a floor plan analysis.
Many customers call in with a floor plan already in their hand.  They send the plan over in an email, and we work from there.  We estimate available space for workstations, transit areas, and storage systems.  We look at the total amount of square footage in the suite and calculate the cost of operations per each square foot.  Our goal at this stage in the process is to minimize the amount of square footage for things like storage and filing.  This leaves the majority of floor space free to build profitable centers of production based on your business model and operational requirements.
In the event that you do not have a floor plan, we are happy to schedule a free walk-through of the space to make these calculations.  We are very much a face-to-face vendor and are happy to visit with you at no cost provided you have time to schedule a meeting.
We then conduct a workflow analysis.
Understanding how your business works will help us maximize your ROI on cubicle installation services.  Factors such as what marketplace(s) you operate within, the number of employees you have, and your primary goals and current challenges all play a major role in designing workstations that truly support your team.
If we can pinpoint the profit centers in your company, we can direct the majority of your funds toward cubicle systems that support your revenue streams.  While we readily acknowledge that cubicles themselves do not make you money, we also point out that properly designed cubicles will better position your team for superior focus and increased production.
After finalizing your space plan, we then build your workstations custom to your business model and operational requirements.
Because we own our own factory, we can keep the total cost of our cubicle installation services well within budget tolerance.  You are not having to pay a markup or warehousing cost on the products we build for you.  It is strictly a matter of parts and labor, with predictable delivery costs finalized well in advance of the actual installation.
Give us a call now, and we can start with a floor plan or a courtesy walkthrough at no cost to yo
Office Cubicle Installation Services


FREE Quote 713-412-0900