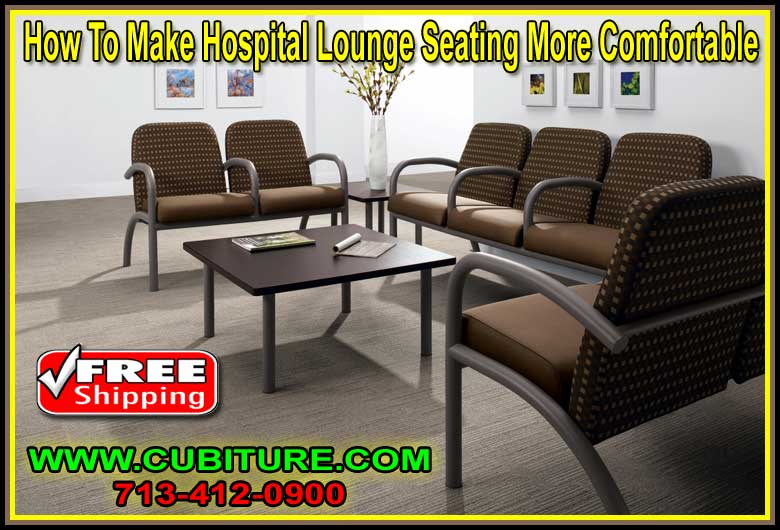 Simplicity can often be the key to comfort.  Hospital lounge seating, like the arrangement of chairs shown in the picture, does not require an opulent look or luxurious materials to accomplish its task.  These chairs are some of our most popular products, combining durability with a clean, basic design that will work in any medical lobby, emergency waiting room, or waiting area for intensive care.
Comfort rests upon a tubular, all steel frame that provides stability for persons of all body types.  These frames can also be weighted and fitted with fasteners to protect against tampering.  Mental care wards often choose this option so they can use this line for seating in patient rooms and group therapy areas.  Correctional facilities have also used these in visitor areas.  Hospital lounge seating features 350 lbs standard weight capacity and bariatric weight capacity is 750 lbs.
One of the key features that make our basic lines of hospital seating so comfortable is the design of the seat cushion.  The angled edge is standard, but flat seats can be substituted upon request.   Cleaning is quick and simple, thanks to the obstruction-free design made with housekeeping crews.  For additional infection control measures, seat cushions can be ordered with a stitching seal that blocks all fluid absorption.  Both the cushions and the backrests are field replaceable, so maintenance crews can handle their own hospital lounge seating repairs on the spot.
Cubiture carries a number of additional hospital lounge seating lines designed for waiting rooms near surgical centers, maternity wards, and intensive care units.  Many of these models come with wooden armrests to compliment the room with a definitively classic look.  Others have completely upholstered armrests and backs that mimic living room furniture so visitors can feel a touch of home when they visit loved ones during the most trying of times.  Send over a floor plan or picture of your lounge area, and your Cubiture account manage will help you choose the best models for your visitors and patients.
Hospital Lounge Seating


FREE Quote 713-412-0900