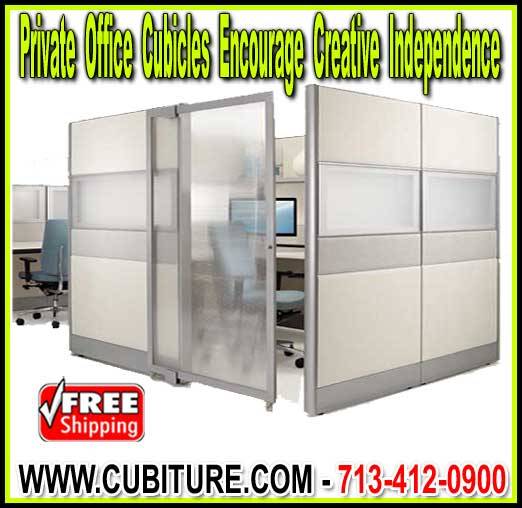 Private office cubicles create enclosed areas that can be used for a variety of purposes. For instance, some employees may be working with extremely confidential documents that require the security of a closed door. Managers who may need to coach a worker on his or her performance can do so without embarrassing the individual in front of other workers. Still, other employees may need to work in an environment that blocks surrounding noise. Many web developers, copywriters, graphic artists, and accountants work best when they are insulated from distractions.
While some people may perceive an enclosed workstation as confining, the reality of private office cubicles is anything but. These systems are created to work just like traditional offices. The smaller ones contain an ergonomic desk system that provides the occupant with plenty of room for computers, peripherals, documents, and storage. Floor-mounted partitions take the place of office walls. In the larger systems, these partitions reach all the way to the ceiling. In smaller cubicle arrays, the panels stand only 6-8 feet above the door.
In most private office systems, cubicle panels are fitted with some form of glass inserts. These inserts may be frosted so that they allow light to enter the interior, but they obscure visibility to prevent others from looking inside. The larger private office cubicles, which are more like veritable offices than standard cubicles, contain transparent glass panes that function as actual windows. Some of these cubicle office systems are so large that entire teams of people can work inside them on collaborative projects. The possibilities for size, design, and utilization are truly limitless, due to the wide variety of floor-mounted panel types Panels can be wood, laminate, metal, fabric, whiteboards, glass, or plexiglass.
This versatility is also the result of the many types of entryways that Cubiture can build into a private office cubicle. Standard offices typically have a door with either a knob or a handle that swings on a hinge. Doors like this can also be installed in cubicle offices. Additionally, other entryways not possible or practical for standard drywall offices can also be built into these systems. In many private cubicles, only a door-shaped entrance is used. This restricts access to the workspace and greatly reduces surrounding office noise. The worker, however, is never completely isolated from the team. Many managers prefer this because it represents an "open door" policy toward staff members who must approach them for training, instructions, employee concerns, and performance reviews. Such an entryway established a sense of boundary without creating an actual barrier.
Working in a private office cubicle, employees in an open office environment often find a new focus and sense of personal freedom once they are removed from the general chatter that characterizes a roomful of interactive employees. The simple act of making a quick personal phone call, or clearing up a misunderstanding with a co-worker, can be very awkward when conducted in front of a roomful of people. Tasks such as proposal writing, financial reports, and any sort of design work sometimes require more peace and quiet than the general environment will allow. Investing in modular offices that are built around these vital tasks can streamline production, improve moral, and add a new dimension to the overall office environment.
Cubiture builds, ships, and installs private office cubicles anywhere in the Continental United States. We own our own factory and fleet of trucks, so we can pass on tremendous savings to our customers by selling directly to the public. Every quote we issue includes a complimentary space plan drawing, which our team uses as a blueprint for workstation construction and installation. We warranty all cubicles for parts and labor, and we have thousands of materials we can utilize in workstation construction. No budget is too small, and no project is too large, for Cubiture. Call today to get started on a new workflow solution.
Private Office Cubicles For Sale – FREE Quote 713-412-0900