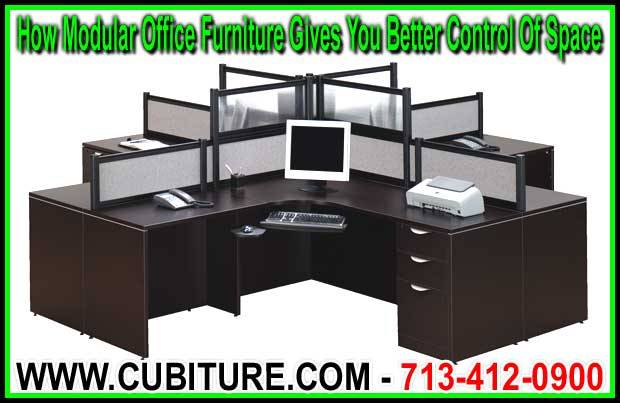 Modular office furniture not only creates privacy for creativity and concentration, but it also generates a far more personalized workspace.  Given its configurable, kit-of-parts sensibility, self-contained units like cubicles offer a high level of adaptability that empowers you to control the layout of your office space. Its portability further allows you to adapt and reconfigure your office as you grow.
One of the greatest advantages of modular office furniture is the ease with it can be moved around. Because cubicle walls are designed to be portable, you can reconfigure your office environment at will to better accommodate your workflow. Even if you're in the position of moving office spaces, the portability of modular walls means you can simply take them with you, should your business either expand or relocate. It goes without saying that this is obviously something you cannot do with drywall fixed structures.
Another benefit of modular office furniture cubicles is their ease of assembly. Whether moving to a new suite or opting for a new layout at your current space, you can expect only a very short period of time will be required to disassemble and reassemble your furniture. One of the reasons for the ease of assembly is attributed to the lightness of the panels of these modular cubicles.
Additionally, most sets of modular office furniture have interlocking mechanisms from which you can build entire walls with individual panels. An average office cubicle can be completely assembled by two people in around two hours whereas a drywall structure could take as long as two weeks. Who has the time to work with drywall when some cubicle walls can even collapse and fold up into one-quarter of their assembled size at the user's convenience?
If you're subleasing an office, you may know just how difficult it can be to modify the suite. The time constraints of the lease would not make for an equitable exchange on the investment of drywall construction. Also, chances are that the sublessor would rather you leave the space as you found it.
Considering these factors, modular office furniture offers the perfect solution. Its high level of flexibility and portability means that you can enjoy a number of arrangements of cubicles in almost any kind of pattern you can imagine. In fact, modular office furniture offers one of the most flexible layouts you can invest in, as far as office space planning goes, making it suitable to almost any office space you choose.
One of the best things about modular office furniture is its customizability. Cubicle wall height and materials allow you to create a different level of privacy for each employee. This can be especially important in a hectic office environment or where an otherwise open office plan would make it difficult for employees to stay on task and maintain productivity with little distraction.
There are other benefits to utilizing modular office furniture in your office. When the workflow of your choice is set up in a floor plan designed to meet the workflow needs of your staff, it can encourage collaboration and team building while also balancing it with privacy where necessary.
We here at Cubiture not only offer a broad selection of modular office furniture; we also draw upon decades of experience in office planning and design, complimentary to you! Whether you're a startup needing office space design or even setting up at a local civic center, when you consult with our office planners at Cubiture, we'll present you with a number of configurations that will fit into your space while and you can choose which one you believe will work best for you. Call Cubiture now!
Modular Office Furniture For Sale – FREE Quote 713-412-0900