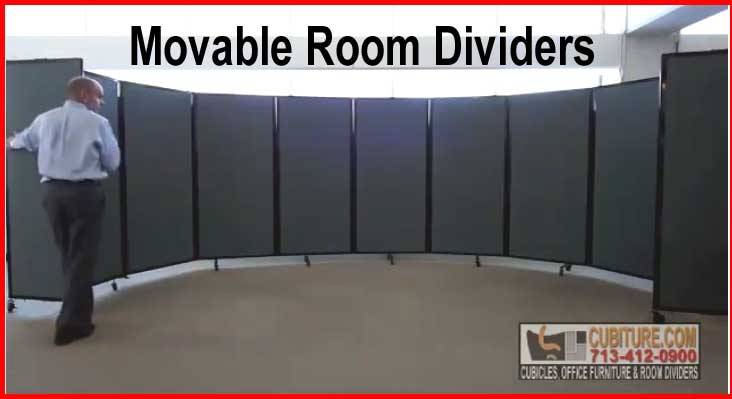 Movable Room Dividers –

FREE Quote 713-412-0900
Anyone who's spent even a short amount of time around children knows just how active and dynamic the world they inhabit is, so what better way shape their daily activities than with our dynamic movable room dividers? Whether you run an educational facility, a day care center, or even a summer camp program, children in large groups have a variety of needs that must be met. Cubiture's movable room dividers integrate many solutions, not just that of creating spaces for various activities.
The purpose of movable room dividers is to help form areas that are specialized for certain uses where more permanent fixtures, such as constructed walls and partitions, are not available. They offer flexibility and portability to rearrange the environment at will to support the curriculum of teachers and care providers. Educational institutions like publicly-funded primary schools are often largely un-partitioned spaces whose subdivided classrooms are instead defined by furnishings like desks, shelving, and portable lockers or closets. It's also common for large rooms such as the auditorium, lunchroom, and gymnasium to hold fun activities. All of these circumstances offer a lot of potential for movable room dividers to be employed.
If classroom activities require children to split into groups, such as with group discussions, projects, or games, movable room dividers of various sizes can make that possible. A divider can delineate a space where some children can complete special assignments and make-up work as normal activity resumes for the rest of the class. Special play or sleep areas, as well as break time areas, can be walled off from the general classroom with a movable room divider. Even a time-out space can be created, perhaps most effectively so with one of our folding, or "accordion," dividers which can be configured into a view-blocking "C" shape. Special-needs children are cared for differently than children of more typical development, so setting up an area specifically to accommodate them and their activities can also be achieved with a movable room divider.
As mentioned earlier, sometimes the large gathering spaces in a school or child care center may double as a play space, often when a rainy day forces children to move their outdoor activities indoor. In the case where students might be relocated to the gym, movable room dividers can help to discourage kids from horsing around on equipment and bleachers. Any child behind the dividers will be spotted by supervising teachers if you select from among our dividers available in clear polycarbonate.
Our movable room dividers can also inspire creativity and curiosity as they help to facilitate learning. Among our multiple movable room dividers, there are many beautiful colors to choose from. It doesn't matter if you choose a divider made of fabric or polycarbonate panels; both can be visually appealing to children. Our fabric dividers accept tacks so that teachers and care providers can display learning materials and children can display their artwork or presentations. The light coming in through polycarbonate panels can be especially beautiful, whether clear or colored, and various opacities are also available, allowing the view through the movable room divider to be more or less obstructed. No matter what the activity, we know that it's important for children to concentrate in the classroom in order to be successful students and individuals, especially when distractions can come from all sides. Many of our movable room dividers and even non-movable versions have acoustical features that are great a dampening sound being transmitted from other classrooms.
One of the most popular movable room dividers we carry is our 360-degree folding divider. With the 360-degree hinges, this divider has a maximum range of motion to allow for a number of configured shapes, including the straight line, a swooping curve, an "L" shape, and a "C" shape. The radiused extruded aluminum seams also do away with pinch points when you're handling and rotating panels. The extruded aluminum frame, with corner joints of cast aluminum, means this divider possesses a high level of durability while also being very lightweight. The movable room divider's unique transport also adds to the ease of moving it from one place to the next. Conversely, the locking casters allow you to keep the divider still, while the patented full-sized panel end units give it extra stability, no matter what configuration you prefer. This movable room divider is available in multiple heights ranging from 4' to 7'6". Widths range from 8'6" to 25'.
There are two materials that the 360-degree movable room divider comes in. Our 2-inch-thick acoustical fabric panels do an excellent job at dampening sound with their fiberglass core construction. The fabric is tackable for accommodating artwork and other posting materials, and it's available in 24 colors as well. The polycarbonate movable room divider is available in 9 colors, including clear. With polycarbonate, various levels of opacity modify ease of visibility while still admitting ambient light to come through.
Today we must also think of how movable room dividers could play a role in child safety. Parents, teachers, child care providers, and administrators must help keep the security of our nation's children in mind, now more than ever before. The threat of gun violence seems to be ever-present today and in so many aspects of daily life. It's a sad fact that our schools are far from off-limits to perpetrators of gun violence. Fortunately, we carry a defensive solution in the form of a bullet-resistant movable room divider that can help protect children in the event of a mass shooting. This shield partition includes integrated ARMAT ballistic material and is tested and certified by independent Ballistic Laboratories under the National Institute of Justice Standard NIJ0108.01. The IIIA designation of the initial moving room divider, with patent pending, refers to the divider's ability to withstand multiple shots from .44 magnum and 9mm ammunition.
When collapsed, the width of this movable room divider is 33", making for easy storage. In just seconds, it can be deployed as an active shield, extending to a maximum width of 19'9". Other possible widths include 7'2", 11'3", and 15'6". The only height option available is 6'8". Call Cubiture for more details regarding the shield partition, including delivery time upon ordering.
We care about providing the tools necessary to foster learning, creativity, and safety in our children's educational and care facilities. Whether it's a small neighborhood day care center or a sprawling public school district, we would love to help you find the right tools for your unique situation. On top of reaching the perfect spatial solution with our movable room dividers, you can also enjoy the free shipping we always provide with every order you place. Call Cubiture today for more information!
Movable Room Dividers –

FREE Quote 713-412-0900