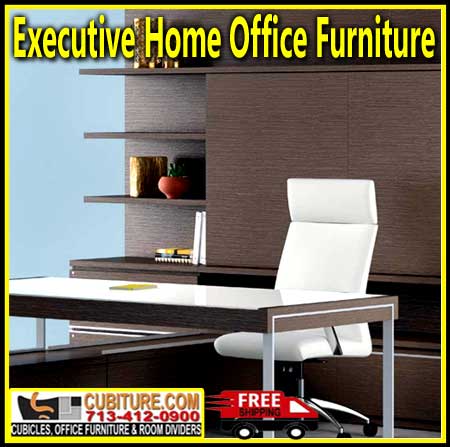 Executive Home Office Furniture – Free Quote – 713-412-0900
When shopping for executive home office furniture, begin by allocating a room that is dedicated solely to the purposes of business. You do not want to mingle personal space and workspace when running a home-based business because you can easily lose your sense of focus and discipline when you do. If you do not have an entire room to dedicate to home-based workflow, choose a room other than your bedroom and invest in a portable partition that will separate your workspace from living space.
This is not to say that your home office should look or feel oppositional to the rest of your home. Aesthetically and energetically it should complement your home environment while at the same time focusing perceptions toward productive comfort and away from recreation and actual rest. This is why Cubiture recommends that you choose executive home office furniture that is both stylish and ergonomically comfortable.
The style keeps the mind focused without a sense of division and clash. Aesthetically appealing executive home office furniture creates motivation. The last thing you want in your home office is executive furniture that has a drab, lackluster appeal. Not only will it pull your emotions down, it won't look good to any clients you invite to your office, either.
When choosing a specific style, follow the overall design of your home. While home furniture differs significantly from office furniture, both are categorized into classifications such as traditional, transitional, modern, and contemporary. If you cannot easily classify your home interior design with one of these labels, simply call Cubiture and ask for a free walkthrough of your home. Our designers can quickly surmise the look and feel of your home and guide your selection of executive home office furniture that will accordingly compliment and properly focus its essential "look and feel" into a professional workspace.
Once the aesthetic is established, we will help you choose executive home office furniture with the highest possible performance value. For most home offices, the most important element is the executive desk. This is because it provides the owner with a transaction center. Visitors can sit down at the desk, making it possible to have conferences in the same workspace Mae certain that your desk is near the center of the room, and that it establishes the tone for the rest of your executive home office furniture.
While this includes resistance to wear and tear, it, more importantly, includes sound ergonomic designs that support your physique while you work. While you do not want to feel as "relaxed" in your home office chair as you feel in your recliner, you want the office chair to be more ergonomic than your recliner in terms of how it supports your legs, hips, back, and shoulders.
You either fall asleep in your recliner and wake up feeling pinched, or you turn in for bed. If on the other hand, you are working 8 hours a day at home, your office chair will keep you comfortably alert with no aches, pains, or fatigue at the end of the day.
To ensure this, it is essential that your chair offers adjustability and rolls easily across any surface. Cubiture recommends chairs rated at 8 hours to ensure that you remain comfortable throughout the day—even on those days when you have no time to get up.
Cubiture can build you a custom filing and storage system that will enable you to organize all your documents and work-related supplies. Unorganized paperwork can lead to clutter and distraction. This can make you subconsciously avoid your desk. Storage systems are key elements of every workstation, so we strive to make it both functional and stylistically congruent with surrounding décor.
Choosing the right executive home office furniture is easy when you work with Cubiture. Our space planners know how to combine function and form, and they know how to make an allocated room or portion of a room work. Call now, and get started with a free home office space plan drawing.
Executive Home Office Furniture – Free Quote – 713-412-0900