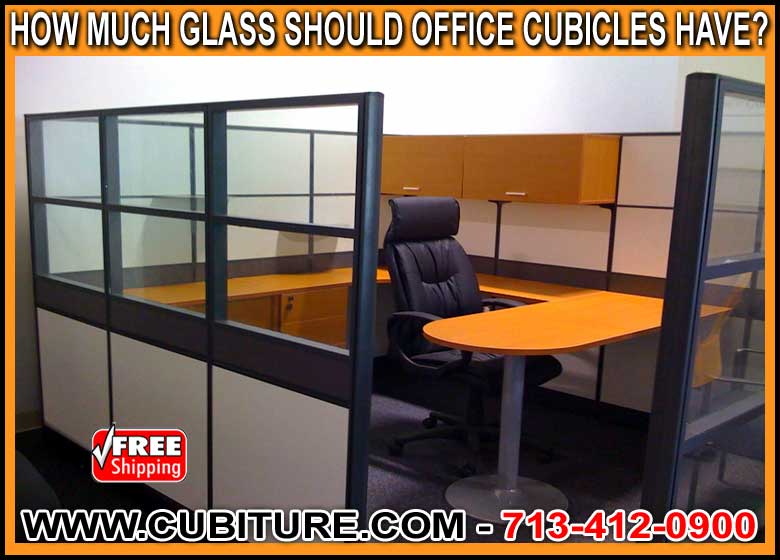 Many types of businesses can benefit from glass office cubicles. These cubicles feature a range of price points based upon the type and amount of glass used in cubicle panel construction. Glass inserts add additional lighting and an enhanced décor to the environment. Cubicle panels constructed entirely from glass establish a powerful sense of energy and sophistication.
Glass inserts fitted to the tops of fabric covered cubicle panels can add a dimension of happiness and bring light to the production environment. Entire panels made from glass will make the building and cubicles seem larger to customers that come in. Employees feel more invigorated and enjoy coming to work.
Laminate glass office cubicles are much lower in overall cost than their glass counterparts. Fine veneers and real cut glass are much more expensive for companies overall. Companies who want to establish an atmosphere of wealth and affluence should pay the increased cost that fine veneers and real glass require.
The naturally clear laminate materials, when used in cubicle paneling, have an illustrious, crystal clear, window-like appearance. Laminate cubicle panels are made from a very good grade material and are available in a multitude of diverse and beautiful colors. Laminate "glass" office cubicle doors and windows are mostly used in a more modern and contemporary design.
Glass office cubicles, letting in the air and light, will make an office look much more affluent and successful than a similar cubicle environment that is all made of fabric and dull looking. Most people would agree that the office that lets natural and incandescent light into it is much more appealing to potential and existing customers.
Another good thing about glass office cubicles is that it is easy to see you when a customer or manager comes into the room. This makes a customer feel like they can know and trust you more, and makes managers easily account for a worker's progress and presence on the job.
For professionals who prefer more privacy than transparent glass affords, office cubicle panels can also be made with frosted glass. These inserts allow external light to enter the workspace but do not allow other people to see what they are doing.
Glass office cubicles can also be soundproofed in high noise environments with your choice of core materials covered by attractive fabrics. Cork and other types of inner cores can be made to virtually eradicate all noise from reaching the workstation interior. The noise from the neighboring cubicles will not disturb the employee, and a more productive workflow is easily reached.
Overall, glass office cubicles are a very nice way to show off the style and presence of your company, and Cubiture can make them affordable. Call now to speak with a furniture expert who will answer all your questions. You can also come to our showroom, browse our cubicles, and learn more about us by visiting with our staff.
If you are seriously considering glass office cubicles, talk to our office furniture experts here at Cubiture. We'll be able to help you answer all your questions. Browse our cubicles and learn more about glass cubicles. Contact us today.
Glass Office Cubicles – FREE Quote 713-412-0900